14/7/13 A few pubs expected here and so we decided to stay in the YMCA for a night. A drive to a pub that would have been 'one too many' on the previous walk took us to the
Station House
, where we arrived at opening time.
Not the prettiest of pubs. But there was a queue to get in and nibbles on the bar. Butcombe (4.2%) and Bombardier (4.1%) for £6.20 with a game of pool was a nice enough start to the day.
Then we left the car at the YMCA and restarted the walk. The
Dolphin Tavern
was soon spotted by the docks.
Pints of Tribute (4.2%) and Dartmoor (3.8%) for £6.90. An old pub, but seemed to be more of an eating place these days.
We had discussed at length what constitutes a pub for this walk, but we hadn't considered a meadery. We choose not to use the one opposite here. So it was on along the promenade, past some bars, past some pubs just off the path until we came to Newlyn.
The
Tolcarne Inn
was first. Pints of Tribute (4.2%) and Betty Stoggs (4%) for £6.70 were nice enough as I read their Sunday paper, but they had a jazz duo in who didn't seem to be attracting the punters.
Shortly later as we rounded a corner next to the fish docks, two pubs came into view.
The
Swordfish
is the first. There was only one couple in and the barmaid was in the kitchen cooking. We soon had two pints of Doom (4%) for £6.90 though. Halfway through those, ribs, sausages and roast potatoes arrived on the bar for the customers. Very nice they were too and so we had a couple more pints.
Just a few doors away is the
Star
. It was busier in here, but I'm not sure why as the Guiness (4.2%) and Betty Stoggs (4%) for £7.10 were not perfect.
Up the hill a bit is the
Red Lion
.
Two pints of Doom (4%) for £6.80 and a couple games of pool here. We were drinking slower now. Next was the
Fishermans Arms
.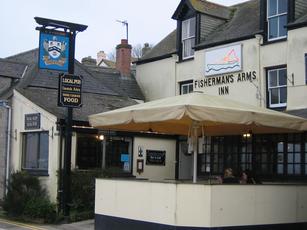 Pints of Trelawny (3.8%) and Proper Job (4.5%) for £6.20 here. The alcohol must have been kicking now as we tried to play darts.
At least we could stretch our legs now as we moved on to Mousehole. The Ship Inn is on the quayside there.
"No alcopops here" I was told, so I think I had a vodka and Sid a pint of something as we struggled on. In fact we struggled on a bit further as we then went on to Lamorna Cove and walked up the valley to catch the open-top bus back to Penzance for the night.